Triumph Rocket 3 HID LED 6000k Headlight Bulb Upgrade Kit 2004-2018
Description
Triumph Rocket 3 6000k HID Headlight Kit
Fits: Triumph Rocket 3 (2004-2018)

IMPORTANT
In order to avoid shipping delays, please be sure to completely fill out all the necessary information involved in the checkout process. We will not ship until we have all the information needed to complete and properly process your order. Here at Cycle Needz, we pride ourselves on doing things right the first time which makes for a pleasant and mutually beneficial transaction.
Product Description
We're at it again! Cycle Needz is proud to bring you the new LED Headlight Upgrade Kit for your '04-'18 Triumph Rocket III. This new kit not only upgrades both your headlight bulbs to extreme white, 6000K LEDs but also includes two super white 194 marker light LED bulbs with a perfect color match to the headlight bulbs. This new headlight upgrade kit for the Triumph Rocket III is one of the easiest ways to improve your view of the road but also makes you much safer during daylight hours. The 6000K color of both bulbs is a significant improvement over the stock headlight and marker light bulbs.

Features:
Two (2) H4, 6000K, 1500 Lumen LED Headlight Bulbs
Two (2) 194, 1 Watt, 30 Lumen LED Bulbs
5 year warranty against LED failure
Easy installation - Direct replacement for stock incandescent and halogen bulbs

More Pics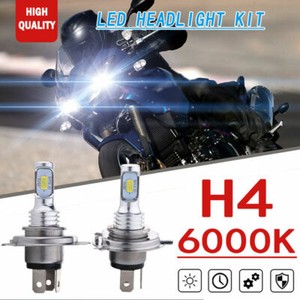 Customer Promise
As always, we here at Cycle Needz strive to meet and exceed our customer's expectations. With your help, we can make every experience enjoyable-we look forward to serving YOU soon..