Buell XB12R Firebolt Plasma LED Color Changing Halo Angel Eyes Kit 2004-2010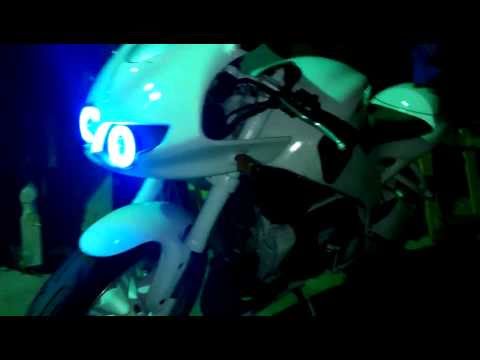 Please sign in so that we can notify you about a reply
Description
Plasma LED Color Changing Halo/Angel Eyes Kit

Fits: Buell XB12R Firebolt 2004-2010
IMPORTANT
In order to avoid shipping delays, please be sure to specify the following when placing your order.. We need to know the year, make, & model of your bike, as well as which remote (if any) you want at the time of purchase. Monetary returns MUST be returned "new" in the packaging with no signs of removal or installation, a 20% restocking fee will be incurred. Buyers are responsible for return shipping..
#buell #buellxb #buellfirebolt #buellxb9 #buellxb9r #buellxb12 #buellxb12r #buellxb12rfirebolt #buellmotorcycles #motorcycle #motorcycles #motorcyclesofinstagram
Product Features:
These halos feature hundreds of semi conductors which make direct contact to the circuit board essentially turning the entire ring into one LED. This advancement in technology not only allows for a higher light output but also appears as one solid ring of light when powered on out shinning any halo you've seen before.
Appearance is never an issue with the slimline design. These rings are mounted on a PCB board only 2mm thick.
Don't expect to have to replace these rings any time soon! Plazma's have a lifespan of 100,000 hours.
Don't be limited to just one color. These rings give you the option to change colors along with a variety of flash modes when you purchase a remote kit.
Kit does not include remote control - this will need to be selected in the drop down menu!
Product Includes:
Either 1 (single), 2 (dual), 3 (triple), or 4 (quad) rings depending on purchased kit and specified in listing title.
Does NOT include remote. (Remote Control upgrade available in drop down.)
All necessary hardware for installation.
Installation instructions.
1 year manufacture warranty.
Lifetime technical support.
Remote Control Options:
Kits are sold without remote control units and can be used with your pre-existing Sportbike Lites color changing lighting products. If you do not currently have a color changing remote control unit you will need to purchase on for the kit to function properly. Remote control systems include module, and 2 wireless key chain attachable remotes.
7 Color Changing Remote: you will be able to select from any color option - Yellow, Red, Blue, White, Green, Pink, and Aqua. As well as choose from a variety of flash modes. (See video in product description.)
15 Color Changing Remote: pick from - Red, Blue, Light Pink, Green, Yellow, Aqua, Orange, Hot Pink, Light Green, Purple, Teal, Light Purple, Light Yellow, Cool White, White. As well as choose from a variety of flash modes. (See video in product description.)
Check out the pics!!





Get YOURS now..
Customer Promise
As always, we here at Cycle Needz strive to meet and exceed our customer's expectations. With your help, we can make every experience enjoyable-we look forward to serving YOU soon..
Features
Year:
2003

2004

2005

2006

2007

2008

2009
Video gallery